eBaoTech has signed a strategic partnership agreement with Verisk (Nasdaq:VRSK), a leading data analytics provider, to integrate Verisk's Risk Rating Tool into its InsureMO platform. Insurers in China will be able to access the Risk Rating Tool via eBao's InsureMO API service to provide automated underwriting decisions that are more inclusive of pre-existing medical conditions.
InsureMO® is eBaoTech's platform-as-a-service (PaaS) for insurers, MGAs, brokers, distribution channels, InsurTechs, and startups to power and accelerate their innovation and connectivity to the insurance ecosystem. As one of the biggest insurance middle office platforms, InsureMO® is now empowering over 300 insurers and 5000 distribution channels in more than 40 countries through its technical capacity.
"We are very excited to reach this strategic partnership with Verisk. InsureMO will work with Verisk to provide automated underwriting for pre-existing conditions in China, and enhance our value proposition to health, travel, and pet insurance providers," said AnTang Du, General Manager, eBaoTech North Asia Cloud. "It was challenging for insurers to cover pre-existing conditions due to the lack of data to quantify risk and to perform automated underwriting. Through collaborating with Verisk, we hope to provide insurers with the tools to offer more suitable cover to a wider demographic of customers in the China market."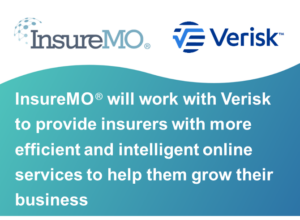 Insurers will be able to access Verisk's Risk Rating Tool and other online distribution services through InsureMO, enabling them to:
Achieve rapid deployment and configuration for health, travel, and pet insurance products
Obtain real-time risk assessment and generate underwriting decisions at the point of sale
Provide a full digitalised customer journey and meet all regulatory requirements
"The use of the Risk Rating Tool will make insurers on eBaoTech's platform much more competitive by giving them the ability to provide seamless digital customer journeys supported by efficient and sophisticated underwriting decisions," said Rachel Edwards, Deputy Global Managing Director, Verisk Life, Health, and Travel.
About eBaoTech
eBaoTech is a global leading technology provider for the global insurance industry. Our mission since 2000 has been to "make insurance easy". Through hard work and full commitment to customer success, eBaoTech has built a strong client base in over 40 countries/markets, covering property and casualty, life, and health insurances. Furthermore, eBaoTech's intense and persistent focus on addressing the fundamental pain-points of insurance technologies through deep-tech innovation has yielded significant differentiation in the global marketplace. For more information, please visit the company website at www.eBaoTech.com and the PaaS enablement site at www.InsureMO.com
About Verisk
Verisk (Nasdaq:VRSK) provides predictive analytics and decision support solutions to customers in the insurance, energy and specialized markets. More than 70 percent of the FORTUNE 100 relies on the company's advanced technologies to manage risks, make better decisions and improve operating efficiency. The company's analytic solutions address insurance underwriting and claims, fraud, regulatory compliance, natural resources, catastrophes, economic forecasting, geopolitical risks, as well as environmental, social and governance (ESG) matters. Celebrating its 50th anniversary, the company continues to make the world better, safer and stronger, and fosters an inclusive and diverse culture where all team members feel they belong. With more than 100 offices in nearly 35 countries, Verisk consistently earns certification by Great Place to Work.