Background and Business Needs:
A Europe-based general insurer provides a wide range of traditional and non-traditional commercial insurance products and risk transfer solutions through a dedicated, global team of commercial insurance experts.
Business drivers:
This general insurer (General Insurer S) saw that small and medium sized enterprises (SME) insurance business has huge growth potential in China. A survey shows that even in the economically developed coastal areas, insurance penetration among Chinese SMEs is less than 5%. The insurer was eager to launch SME lines in China as soon as possible in order to seize the market opportunities.
Challenges:
The typical traditional approach to launch a new business line is either building an end-to-end policy administration system or managing the new LoB in the existing policy admin system. The challenges are 1) Building a new system is time consuming and costly. 2) SME business requires massive engagement from external brokers and allowing brokers access to the back-end core system might create potential security risks and bring performance challenges.
Project Brief:
After prudent evaluations, this insurer decided to adopt eBaoCloud InsureMO as a middle office layer on top of their back-end core system to enable the brokerage partners to quote, declaration, cancellation, query, policy holder self-services, etc. After three months development, the new platform was launched in 2018.
This next-generation insurance policy fulfillment platform specially designed for insurance brokers to serve small and medium sized enterprises (SMEs) with the following features:
Flexible product configuration, supports various types of product packages and tailor-made offerings to specific niche market.
Customer-centralized platform easily provides client and policy data
Serve agents and brokers better with improved business and operation processes, with online issuing and evaluation
Support group insurance business, monthly online registration, real-time policy renewal, and premium auto calculation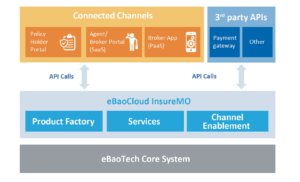 Figure 1. Solution Architecture
Results and Outcomes:
Within three months since the platform has gone live, General Insurer S has launched 6 lines of business and over 60 plans, including employer's liability, public liability, group PA & TA, fire & consequential loss, construction's all risks, etc.
New plan design: 1-3 hours
New product launch: 1-3 days
New sales scenario integration: 1-3 weeks
Update existing products: several minutes
Better UX: support real time policy update through on-line services: e.g. declaration, cancellation, etc.